Custom HomesRenovationsLog & Timber Homes
At Chillcoots, every project is custom and requires its own specific drawings, budget, and schedule. We take the time to understand your goals and offer our expertise as a means of getting you the end product that you desire. We don't have predetermined schedules; we design a schedule around the house that's on paper. Not only will we commit to delivering our highest quality craftsmanship and materials, we will communicate regularly with you about the progress of your project. We take pride in being able to deliver projects on time and on budget. We specialize in differentiating your home, making it unique and making your home yours. Our motto is "Trust built through time," as our process not only works, but it builds strong, lasting relationships with our clients.
We develop a full pre-construction process which will include preliminary project meetings, budget review, design concepts, and lining up contracted projects, all before breaking ground:
Phase 1: Project Kickoff
For the initial 1-2 meetings, we sit down and talk. We will discuss your goals, ideas, project timeline, and establish the direction to take. We take a walk of the site or review the study together. We ask such questions as:
What style of home are you looking to build?
Do you have a set of plans? (That's most important to get going. If not, we recommend architects.)
What are your budget parameters?
What unique features would you like to see?
Phase 2: Budget Review & Design Concepts
The next meeting is what we like to call the "where the rubber hits the road meeting". The architect is present so we can review and offer input about the rough floor plans. Together we review the budget for a "reality check". Sometimes what looks good on paper isn't always affordable.
Phase 3: Finalize Design & Construction Documents
We ask the client to take a few days to process and/or to have the architect make changes to the design. We move to finalize the plans and engineering. We hire the rest of your behind-the-scenes project team for example surveying, soils, structural and civil engineers.
Phase 4: Line Up Projects & Break Ground
We line up preliminary projects/contracts for site work such as permits, water, sewer, gas, and utilities, and order quality materials. Once the permit is in hand, we are officially underway. Now begins the fun part for our clients. We have you start getting selections and coordinate with building schedules.
Phase 5: Vertical Construction & Project Management
This is where the project "goes vertical". Construction of your new home kicks fully into gear with the foundation, framing, drywalling, carpentry, stone work, etc. How do we keep track of the entire building process? We have some incredibly innovative, online technology where everything is prompted so it's an easy process and projects flow naturally. What we really like about it is it also allows us to better communicate with our clients. We like to keep our clients in-the-know and in turn, they are satisfied by being well informed. Clients can see the project schedules, communicate with project managers about selections, and even see work-in-progress photos — all on any device.
Explore Sample Chillcoots Project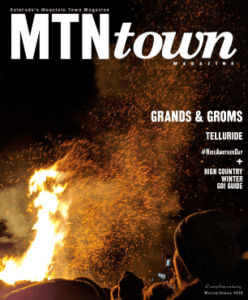 Speaking of processes…
We hope you'll take a few minutes out of your day to read what our friends at MTN Town Magazine have to say in their
2018 Winter/Spring issue
are the "9 Easy Steps to Follow When Building Your Dream Home". Feel free to read the whole magazine but the article can be found on pages 52-54. And there just might be some pretty photos of ours to follow the story.