Rocky Mountain Home Builders
Trust built through time.
Chillcoots are regional Rocky Mountain home builders established by Mark Bjerken in 1995 and based in Winter Park, Colorado. In 1986, Mark moved to Colorado from Northern Minnesota and brought with him the family tradition of being a hard worker and having an honest work ethic. Expanding upon his experience in Minnesota residential home building, he took a job in a local cabinet and millwork shop where he honed his skills for the next eight years. In 1995, Mark formed Chillcoots and began his career in the custom home construction market.
Building off its success as a local Grand County, Colorado business, Chillcoots has expanded its reach with several custom projects throughout the state and beyond. Chillcoots has established itself as a premier, high-end Rocky Mountain home builder willing to go the extra mile with each of their home builds.
Chillcoots' roots began in Tabernash, Colorado so naturally, we have grown strong building numerous homes in "our backyard". Over time we've extended our branches and have also had projects beyond Grand County, including ranches on the western slope, fishing lodges in the Rocky Mountains, and custom projects out of state. According to Mark Bjerken, the owner of Chillcoots, "We will travel for the right project, particularly in the west." And if there should happen to be great flyfishing or mountain biking nearby, the Chillcoots crew will be even more likely to agree to take on a project.
If you are considering hiring a builder with our level of expertise and both high-quality craftsmanship and materials, we would encourage you to reach out to us for consideration in building your dream home.
Chillcoots is accredited by the Better Business Bureau and is also the recipient of multiple Parade of Homes awards. We have also had many of our homes featured in regional luxury home magazines and was nationally recognized by Integrated Magazine with a CEDIA Electronic Lifestyles Award.
Chillcoots is committed to their community in the Fraser Valley through their support of quality, local subcontractors, and regular volunteerism. Their contributions of time and resources have benefited various entities such as the East Grand School System, The Fraser Creative Learning Center, Headwater Trails Alliance, Habitat for Humanity, Grand County Seniors, Heart of the Mountains Hospice, The Grand Foundation, Fraser Valley Metropolitan Recreation District, and Granby Recreation Department.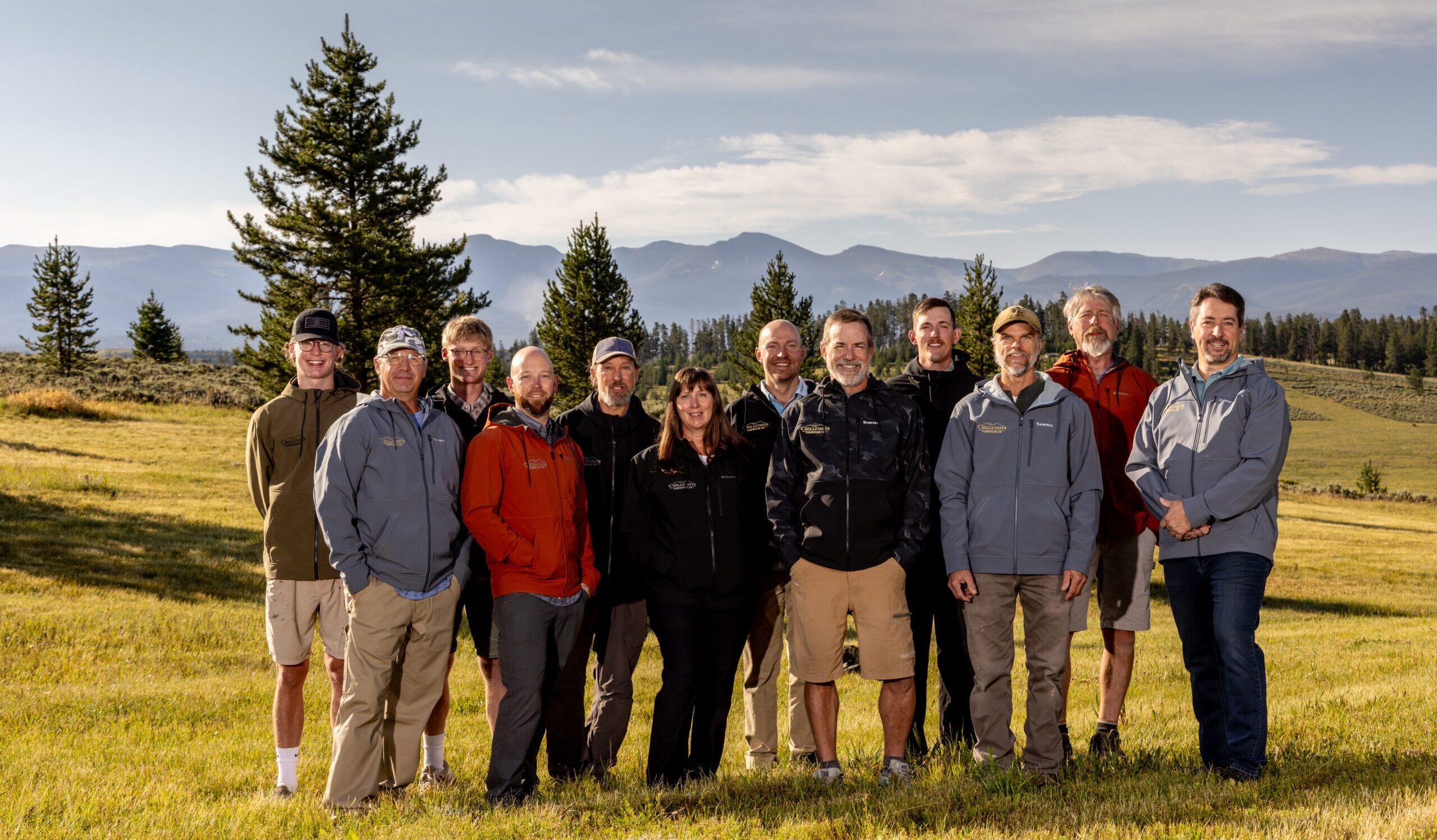 Mark Bjerken | Owner
Learning the profession from the age of 19, Mark started with cabinetry. He knew then that he always wanted to do more. He built Chillcoots with the intent of having its distinction be both honesty and quality. Mark is an avid outdoorsman, when he has the time. He loves spending time in Colorado and the west, and Florida with his family.
Tony Howard | Project Manager
Tony has been building since 2000, both working hands on and managing projects. He enjoys working directly with clients and bringing their dreams to reality. Just the kind of project manager you would want on your side. Tony enjoys two of the best ways to play here in Grand County, golfing and biking.
Scott Knorr | Project Manager
Scott is another "Jack of All Trades"and has been on the Chillcoots team since 2004. He primarily enjoys carpentry. He enjoys 4 wheeling and playing guitar. His hidden talent is sometimes cooking... and sometimes eating.
Justin Anderson
Justin has been with Chillcoots since 2013, and has strong computer and client communication skills. He has a soft but thorough touch leading clients through their project. Justin loves to be outside exploring new areas, preferably on two wheels or sliding on the snow.
Jenn Martin | Office Manager
Jenn has been working in the construction industry since 1997 and with Chillcoots since 2020. She has experienced things from the builders' side and the local government side. Jenn loves to DIY and has been working on her own fixer-upper home. She enjoys being outdoors - gardening, camping, hiking and nordic skiing.
Mark "Brownie" Brown
After so many years building, Brownie has done it all. If he had a choice of projects, he would rather do trim work. In the fall season, you'll find Brownie taking a break from building to be a professional hunting guide leading clients to find elk and deer.
Mike Born
Since 2005, Michael has done everything building for Chillcoots. He's experienced in all phases of construction with a focus on finish carpentry. And, he's an avid astrophotographer (obsessed with shooting night sky), and also enjoys splitboarding, nordic skiing, mountain biking and hiking.
Cajun Griess
Cajun has been on board sine 2005, and he's become proficient in all phases of construction. His attention to detail with an eye for siding and finish carpentry are Cajun's talents. Believe it or not, Cajun is a self proclaimed world famous karaoke singer and can make anyone laugh. He enjoys hiking, rafting, fishing and camping.
Bill Widman
Bill has been with Chillcoots since 2001. He troubleshoots problems very well and is an extremely fast learner. He tries to learn every facet of every job so if it needs to be done, he can do it. He's very well-versed in nature and grew up outdoors. He is a very talented backcountry splitboarder, hiker, biker, climber, whitewater rafting guide and kayaker. He's also an Eagle Scout and getting married in June of 2024!
Turner Bjerken
After several summers of being "the grunt", Turner can finally operate power tools. He likes to do concrete and exterior trim and enjoys learning carpentry and other skills that he can use in his future. He also enjoys activities in Grand County, where he was born and raised: golf, fishing, be outside. He can hit his 8-iron 220 yards!
Andy Little
Andy has been with Chillcoots since 2022. Interesting fact: He helped build his first house at 8 years old. He enjoys working with logs and timbers. His motto: we leave no job undone. For hobbies, he likes to snowboard, dirt bike, play with his bird dogs and plays bass in a blues group.
Gunnar Bjerken
Starting in 2022, Gunnar is busy cleaning up and learning new things on the job. He enjoys golf, soccer, baseball and hanging out with family/friends. In terms of hidden talents, he proclaims to be naturally/physically better than his older brother, Turner, in everything.
Nancy Bjerken
Working behind the scenes to help ensure the business runs smoothly, Nancy is Mark's wife and has been a part of Chillcoots' management since its inception. Nancy absolutely loves to travel and owns her own travel company,
Sol Pursuit Travel
.
"Chillcoots began building our riverside home at Elk Creek Ranch in Meeker, CO on November, 2011. Winter is a tough time in the Colorado mountains to begin, but Mark and his crew got the basic foundation, water lines, and propane tank buried before snow and cold set in. Early spring, the log package was delivered and away Chillcoots went. Construction was on time, bills were matched to budget, few change orders and our home was completed on time and within 5% of budget. Joy and I are very happy with our home. The final "punch list" was painless and Mark continues to stay in contact if anything is needed. Chillcoots took care of all subs, bills, logistics, deliveries of house hold items, and made it a painless experience."
Chris & Joy Dinsdale
Meeker, Colorado
"Chillcoots is the best builder in Grand County. Chillcoots has very experienced crews that spend the time to make sure your home is constructed with the best craftsmanship. The process was very smooth and any challenges were handled upfront and honestly. Communication was outstanding. Given their level of experience, they were able to work with the architect to make changes that had a huge impact on our project. Chillcoots doesn't undercut the project to get the work. Our budget was very clear cut and straightforward. We wouldn't change anything in terms of design or process. They are the best"
Adam Sayers
Winter Park, Colorado
"We have had the pleasure of working with Chillcoots as our General Contractor led by Mark Bjerken during the construction of three personal custom home builds in Winter Park, CO. They say the third time's a charm, but with Chillcoots we can say all three of our homes were an awesome experiences. We wake up every day thankful to be living in a beautiful and functional work of art. Chillcoots and their professional top-notch team gets our vote (times three) for the best General Contractor in Grand County."
Suzy and Doug Robbins
Winter Park, Colorado
"A few thoughts from the Andersons… We were impressed with the quality of their workmanship from the first day we met. We lived in Dallas while the house was under construction, so good communication was an explicit expectation from the outset. Chillcoots did not ever disappoint us as they were always ahead of schedule letting us know what sort of decisions were coming up and when. We still have their cell phone numbers in our phones to call them whenever we need them! We liked all of the men & women that worked with Chillcoots and still keep up with several of them around town. We have never heard anyone in the area that knows Chillcoots that doesn't comment on the high quality of their work … they are clearly respected among their peers."
John Anderson
Tabernash, Colorado
"Our project was a full house remodel that entailed a majority of the old house being taken down to the foundation. Mark was with us at the planning stage and made several suggestions to save costs and get us the design we envisioned. Our site manager Scott was on top of every detail and communicated frequently and effectively which was so important since we live out of state. As a remodel there were several instances when changes to original plans were needed and these challenges were met with knowledgeable input from both Mark and Scott. Their craftsmanship has given us a beautiful mountain home. We cannot overstate the confidence we have in this company. The attention to detail and commitment to quality is amazing."
Ron and Marna Baer
Fraser, Colorado
"From the start, Mark and his team at Chillcoots have exceeded my expectations. I threw numerous challenges their way, including recycled building materials, cutting edge highly efficient materials, unnecessary architectural review delays that meant working outside from October until March and a flawed architectural plan that required clever construction adjustments. Despite all that, they built a great house that has held up very well. They look in on my home to make sure everything is working properly and when ever I have needed help they have responded quickly and professionally. I have built and remodeled four times and only with Chillcoots has it been a great experience. I have recommended Chillcoots and will continue to do so without any reservation."
Brian Beitner
Winter Park, Colorado
"After several years of enjoying our mountain getaway, our confidence in the job completed by Chillcoots has only grown; we have received many comments about the home's quality, beauty and functionality. Mark is an outstanding builder and an excellent businessman. He effectively communicates, providing guidance, timelines, expectations, and respect while listening to and addressing needs and concerns. Problem solving is a particularly strong aspect of his work style. Mark's personal character was, undoubtedly, one of our deciding factors when making our builder selection. The "bottom-line" question might be: Would we choose Mark Bjerken and Chillcoots again, if we had to do it all over again? Our answer: A resounding "ABSOLUTELY YES." We not only respect him, we enthusiastically call him our friend and would confidently recommend Mark to prospective customers."
Denise and Mark Schryver
Meeker, Colorado
"If you are looking for a custom home builder with years of experience in mountain construction, look no further than Chillcoots Construction. I have worked with Mark and his Team for many years and I am hard pressed to find a more detailed, honest and quality builder to recommend. His work and finished products always exceed me and my clients expectations every time. When you want it done right the first time, Chillcoots is the only choice for your construction Team. "
Scott Munn
Winter Park, Colorado
"Chillcoots built my boathouse on Grand Lake and did an absolute perfect job. The team lead by Tony Howard and Mark Bjerken were always on schedule, worked hard and innovated whoever possible. The final product was completed on time and under budget. Chillcoots is a class act and I would recommend them to anyone building in Grand County."
Michael A. Cassio
Grand Lake, Colorado
"We are proud to claim credit for the first house built by Chillcoots, completed in June 1998. After meeting Mark Bjerken through our realtor, we instantly decided this was the man who would build our dream house. Our banker was a bit wary about working with a "newbie", but later said he was the best general contractor he had ever worked with. With Mark's input and communication skills, the plans we started with became even better. Change orders were kept to a minimum and the process was painless. We loved the fact that he worked with so many local subcontractors, which meant a lot of cooperation and flexibility along the way. The result is a house that to this date is an unparalleled work of art. We've seen bigger and fancier, but none that we like better. And the Chillcoots folks have been there every step of the way, providing any help we needed. Building the house was a labor of love for all involved, and we're happy to have become friends with so many who made it happen."
Judi Servoss & Joel Carmichael
Fraser, COlorado